How to Fish with a Gang Troll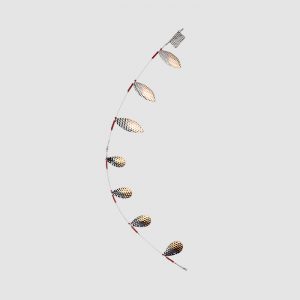 A gang troll is a fishing lure with multiple heavy blades that weigh down the line to allow for deep water trolling. The multiple blades also create flash and vibration in the water, attracting fish from a distance.
Here are some things to keep in mind when fishing with a gang troll:
Attach at the rudder: Attach the gang troll to your fishing line at the rudder end. At the spinner end of the gang troll use a swivel and attach a bait.
Bait your Hook: Consider baiting your hook with a worm, minnow, or artificial grub.
Troll Away: Let the Gang Troll drop down to the desired depth and begin to troll. The Gang Troll will resemble a school of fish with your bait trailing behind. The fish are attracted to the school and move in to eat the last fish in line which in this case is your bait. Adjust your boat's speed to control the depth of the gang troll.
Land your Fish: At Lucky Strike, we always think a net is the way to go. Once you've caught the fish, don't lose it at the boat! Choose a strong netting mesh, such as a gorilla net or a rubber coated basket net, in a big enough size to hold the species you're targeting.
Gang trolls are effective at attracting a wide range of freshwater gamefish, including trout, salmon, and northern pike. Always consult local fishing regulations for specific rules related to gang trolls and the species you're targeting.