Frequently Asked Questions
Fishing Products
How does LUCKY STRIKE measure the length of a lure?
LUCKY STRIKE measures the body of the lure only and not the hook. Here is an example of a 3" Devil Bait:
Does the weight of a LUCKY STRIKE lure include the hook?
Yes, the lure is weighed when it is fully assembled with split ring and hook included.
What type of hooks does LUCKY STRIKE use?
MUSTAD hooks are used on all LUCKY STRIKE lures.
What is EPQ?
EPQ stands for Elite Photo Quality. It is a four-colour printing process that photo transfers the actual fish scales and colours onto a lure. For over 100 years, lure manufacturers have tried to paint imitation bait patterns. Now Lucky Strike can place the fish's true patterns and colours on a spoon to appear to prey as the real thing. Currently the three types of fish skin colours available are Speckled Trout, Brown Trout and Perch.
When do you use a Gang Troll for fishing?
Gang Trolls, also known as "Cow Bells" or "Christmas Trees" are commonly used for fishing deeper water for Lake Trout and Salmon. You should have a tough rod and strong line when fishing with Gang Trolls. A Gang Troll will help your lure get down to a deeper depth of water (the heavier the Gang Troll, the deeper it will go).
How do you use a Gang Troll for fishing?
Gang Trolls use a rudder that guides a series of spinning blades on a strong steel wire. Attach your line to the rectangular rudder end of the Gang Troll and then attach a bait to the swivel at the other end of the Gang Troll. There are many different methods and choices of what to put at the end for bait. One recommended method is to have 10 – 15 inches of line that connects your lure of choice to the back swivel of the Gang Troll. Your lure of choice can be anything with a hook whether it is your favourite spoon or live bait. Once you have done this then you are ready to let the Gang Troll drop down to the desired depth and begin to troll. The Gang Troll will resemble a school of fish with your bait trailing behind. The fish are attracted to the school and move in to eat the last fish in line which in this case is your bait.
What does "Tangle Free" mean in your nets?
There are two main types of mesh that have been used in fishing nets for a long time. One is called "Poly" which has a really plastic type feel and the other is "Kuralon" which is more like cotton. The strands of both these mesh types are actually three strands twisted together. Here is an image of the three strands twisted together to make one strand of Poly or Kuralon mesh.
Hooks can often get caught in between the three strands so we created "Tangle Free". Lucky Strike mesh that is labeled "Tangle Free" means that the mesh on the net has been coated with rubber to make sure the strands can't be twisted apart.
What is a Basket Net?
A Basket Net is any Lucky Strike net that has a flat bottom "basket" shaped mesh on it. The Basket Nets were designed to be like the popular rubber nets, but lighter in weight.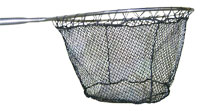 Orders & Returns
What are your payment options?
We accept Visa, MasterCard and American Express credit cards. Your credit card will be authorized immediately through our secure website working with Moneris Payment Solutions and you will be notified on-screen and by email.
How do I place an order?
When you're done shopping, click "Checkout" to place your order. If you see an item in your shopping cart that you don't want, you can click REMOVE and your shopping cart's contents will change.
Can I change my order during checkout?
Yes, you can always go back through the screens and change your order. Your order will not be placed until you reach the credit card information screen and click "confirm order."
How can I be sure my order has been received?
Once you click "Confirm order" the final review page will appear confirming that your order has been processed and that your credit card has been successfully processed through our Moneris Payment Gateway provider. You will also receive an immediate email notification of your order. If you have placed an order and not received a confirmation, please email info@luckystrikebaitworks.com to have a Lucky Strike employee check the status of your order.
How long until my order is ready?
Your order will be processed within two business days. Canadian and US orders are shipped as soon as the product is available. Lucky Strike tries to keep adequate inventory levels on all products, but with over 2,000 different lures being made in the factory, shortages can occur. If you place an order and an item on your order is out of stock, Lucky Strike employee will email you. In this email you will be asked if you are willing to wait for the lure to be produced or if you would like to switch to something that is currently "in stock."
Are there other ways to place my order?
Of course. If you are uncomfortable using your credit card over the internet, please complete as much of the shopping cart information as you would like, and then call our Customer Service Centre at 1-877-LURES4U (1-877-587-3748) and we will be pleased to complete your order for you.
Can I return or exchange an item?
Though we hope you enjoy the fishing lures you have ordered, we understand that there are occasions you may want to return items. You may return items to www.luckystrikebaitworks.com, for any reason, for a full refund. Please note that we can only process returns and refunds for items purchased at Luckystrikebaitworks.com. Items must be returned within 30 days of receipt to qualify for a full refund.
You must obtain a Return Authorization number by contacting one of our friendly staff members by emailing info@luckystrikebaitworks.com or by phoning 1-877-LURES4U (1-877-587-3748).
If your return is not the result of our error, the shipping cost of that returned item will be deducted from your refund. The amount deducted will be the equivalent to our standard shipping costs for that item.
If the return is a result of our error (you received an incorrect or defective item, etc.), we will reimburse the full order amount plus return shipping costs.
Are your products covered under warranty?
Shipping & Delivery
How do I know my order has been shipped?
When your order is complete and put through the shipping system you will receive another email confirming shipment and giving you a Canpar tracking number. For US customers, Canpar delivers parcels to the Canadian/US border and FedEx delivers the rest of the way.
What is your Shipping and Delivery Policy?
If your order subtotal is over $70, shipping will be FREE. Orders are shipped using Canpar in Canada and FedEx in the United States. The rate charged is dependant on your location. Shipping is typically around $10 – $15; however, if your location is considered by Canpar or FedEx to be more remote, then the rate will be slightly higher. Canpar will not deliver to a PO Box, so your shipping address must contain a street address. Wherever possible, it is recommended that you use a business address rather than a residential address. Delivery will be 3-5 business days from the time the package leaves our warehouse.
Online Security
How do you protect confidential information?
We are a GeoTrust Secure Site, which means your confidential information is protected. We want you to feel confident and comfortable that your purchase is transacted with the utmost security. We employ the Internet's strongest security technologies, including Secure Sockets Layer. The transactions are protected by the highest levels of encryption available to ensure security and privacy.